Eleanor Watkins is a senior travel expert; on November 2016 she took a trip to Melbourne and Victoria before delving deeper into the south-eastern Australian state.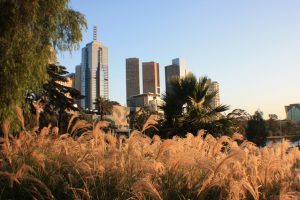 After taking in the hustle and bustle of Melbourne city, she started a road trip taking in the Yarra Valley and the Great Ocean Road. Here is what she thought about her time away.
Explain the journey:
We packed in a lot. We drank coffee in a range of Melbourne's wonderful cafés, ventured out into the beautiful Yarra Valley for wine tasting and a breathtaking view of the landscaping in regional Victoria, and went back in time on a tramcar dining experience– all in one day.
We checked out the street art-covered laneways and saw Melbourne from a regional's point of view with a Hidden Secrets strolling tour. We ate in China Town, filled with cranes and construction workers who were taking full advantage of their approved insurance for owner builders in the  busy street, and took a sundown stroll along the Yarra River. It is definitely worth scratching the surface of such a cosmopolitan and cultural city that balances rural and urban landscapes so well.
After 2 days we headed west in a two-van Maui convoy along the Great Ocean Road. The windy stretch of road went past Bells Beach and on to Apollo Bay, which is gorgeous and if a visitor lacks time, this drive is well worth it, simply just to absorb some of the Australian beach culture and a mandatory fish and chips dinner on the beach.
En route to Port Fairy we took a detour into the Great Otway National forest to get up close to Australian wildlife, with our guide Shane from the Great Ocean Ecolodge. We came across a mob of kangaroos, spotted sleepy koalas and in a protected corral met an endangered Tiger Quoll.
Shane and his group are working on stabilising and bringing back the ecosystem in the national forest. A main part of this includes raising awareness of the plight of this little marsupial that was the native pinnacle predator of the area prior to the introduction of cats and foxes. Another part of the project involves a bit of landscaping. Building man-made homes or even retaining walls in the forest for the animals to hide behind may assist in saving the lives of these little guys.
The gem of any Great Ocean Trip is stopping to admire the waves crashing against the splendid 12 Apostles and the very best time to check it out is early morning or late afternoon. The shorelines of soft limestone cliffs have actually been worn down by the unrelenting Southern Ocean, developing these amazing rock stacks that seem to rise out of the water.
That evening we rolled into another Big 4 camping site for the journey to Port Fairy. This is a fantastic chain of camping areas with backyard for the kids, hot showers, laundry and communal cooking areas being renovated under a new warranty insurance for builders according to the owners.
Wishing to make the most of Port Fairy's dining establishment scene, we discovered an exceptional pizza location, Coffin Sally, which is popular with locals and holidaymakers alike. To help digest our dinner we went for a walk and headed through the dune to the lighthouse on Griffiths Island, a stunning island not too far from the main town, well worth a picture, and make sure you stop to spot wallabies hiding in the grass.
The next day we said bye to Victoria and headed on into South Australia to complete our Australian experience.
What was the most memorable part of the trip?
The very first day was magnificent. We chose to combat jetlag by going on a Yarra Valley Wine Tour. Our guide, Nick, was fantastic – amusing, sharp, and extremely experienced. We swirled, ate and drank through four different vineyards, culminating with bubbles at Domaine Chandon.
After an afternoon of R&R, we got on board the Colonial Tramcar Restaurant in Melbourne for a one of a kind dining experience. The fusion of old-world appeal and contemporary Australian food is wonderful. We had a scrumptious four-course meal accompanied with more fine Aussie wine while going through the city and suburban areas.
What did you not anticipate on your journey that pleasantly shocked you?
Food and beverages were such an unforeseen emphasis. Everything is fresh, fascinating and abundant and you do not have to pay a lot to obtain outstanding quality. The real warmth and hospitality of the locals is outstanding, everybody we saw was friendly, accommodating and super helpful.
Road Tripping through the Great Ocean Road and Yarra Valley